Description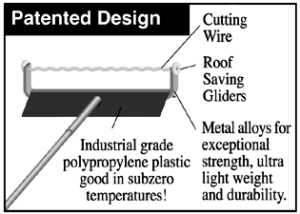 The Snow Cutter is a big tool that makes quick work of large jobs (27″ wide and almost 18″ high)
and it is extremely light at 2.25 pounds. This is accomplished through smart design and extensive use of aluminum alloys.
– The aircraft grade aluminum alloy frame keeps all the components together.
– The temperature-resistant and extremely tough polypropylene blade is firmly secured to the frame with stainless steel rivets. The four large holes in the blade help keep the Snow Cutter from sliding sideways while working.
– The aircraft grade structural aluminum cutting arms firmly secure the cutting wire and plastic rollers to cut through tough crusts and snow. One detail that is difficult to notice in the pictures: the cutting arms are machined to an edge to help cut through tough snow easily.
– The sturdy aluminum neck is secured to the frame and goes through the blade to firmly connect the Snow Cutter to the extension poles.
The Snow Cutter Saves Time. The exclusive cutting wire is the key to clearing a roof in less than half the time than a roof rake or other methods. Deep snow is divided into manageable layers that pull off smoothly without piling up. The cutting wire reduces friction between the roof and snow, so the snow slides off with a light pull.
It's Safer. There is no need to climb up on the roof. With the Phillips Snow Cutter you can clear snow away safely from the ground.
It Protects the Roof. In freezing temperatures roof shingles become brittle and crack easily. Repetitive scraping by a roof rake or standing on a roof and removing snow with a shovel can do severe damage. The Phillips Snow Cutter glides over shingles on sturdy plastic rollers, effectively removing snow while minimizing damage to the roof.
How it works: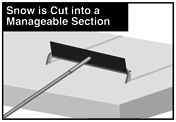 First: Cut the snow into a manageable section by pulling the Snow Cutter with the wire side down. The Snow Cutter is strong enough to cut through deep crusts and icy or heavy snow. Sections are 27 inches wide, 10 inches deep, and approximately 8 feet long.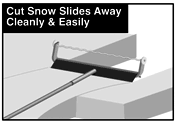 Second: Go to the top of the section with the blade side down and give the snow a light tug to slide the snow off the roof!